Client
: LW Graphics - part of the LW Design Group, with architecture and interior design. With a focus on hospitality in places like Dubai, China and Brazil. We were partners between 2005 – 2008 - Branding and marketing section.
Project:
A graphic design brochure. Brand Development, Concept Development and Design for "The Graphic Process - Choice & Balance".
Impact:
A brochure that attracts new customers.
"Graphic design, is a dynamic process. It involves refining values, transforming information and processing all that a concept stands for in a singular, poignant visual statement. It involves a lot of choices …"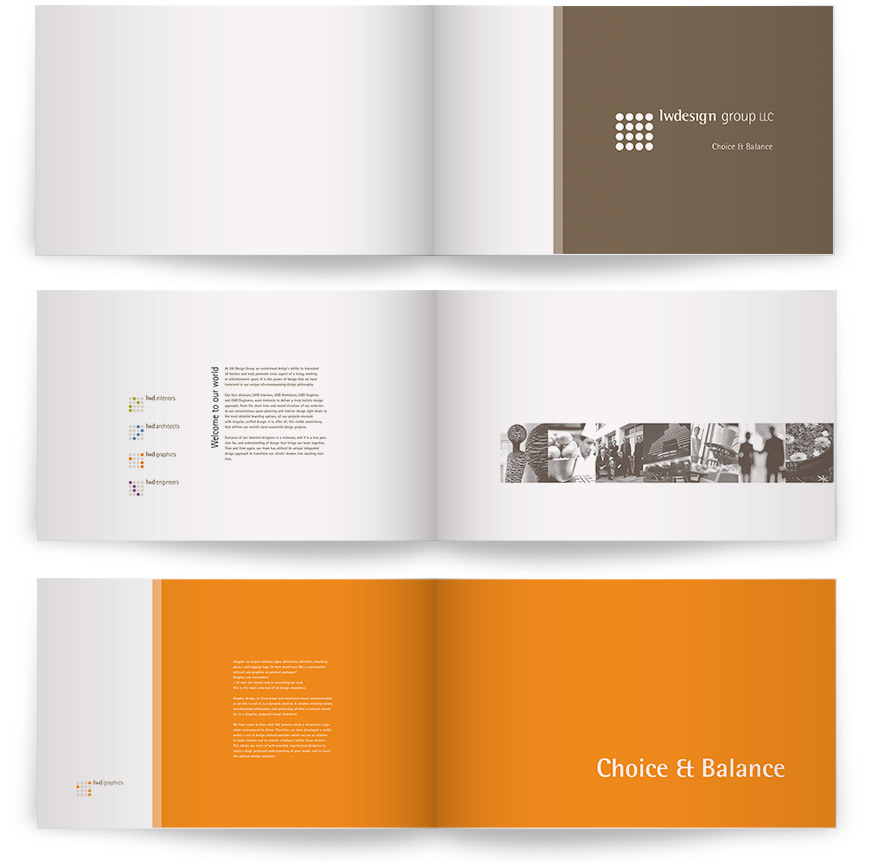 Welcome to our world // Choice & Balance //

Graphics are everywhere - all over our streets and what we sees and read. Imagine an airport without signs, directions, identities and luggage tags. Or how would you like a supermarket without any graphics on product packages?

We have come to learn that this process needs a structured, organized environment to thrive. Therefore, we have developed a model within a set of design related variables which we use as vehicles to make choices and to achieve a balance within those choices. This allows our team of well-rounded, experienced designers to reach a deep, profound understanding of your needs, and to reachthe optimal design solutions.
01 - Inspiration / Research

There is something quite magical about inspiration; ideas that come to us, and capture our imagination and interest. Teamed with a solid amount of targeted, relevant, conscientious research, inspiration provides the ultimate and ideal creative platform.
02 - Fact / Fantasy

Imagine our world without the dreamers who constantly challenge and reshape our realities. Now, imagine where our world would be if we thrived on fantasy and chose to ignore the undeniable facts and laws that govern us. The fact is, facts and fantasy go hand in hand in evolving reality. The great artists and thinkers of our time relied on facts, just as the greatest scientists and engineers of our time were evengreater dreamers.
03 - Quick / Cultivated

There is simply no denying that quality takes time, and that the knowledge and experience of a seasoned professional is priceless. While quick, ready-to-go creative output may befit some situations, there is definitely something to be said about the perfection of that painstakingly prepared Chef D'oevre.
04 - Local / Global

There is a question in the world of advertising; "how many people would want to buy a nuclearpower plant?" Chances are, not everyone reading a fashion magazine would. To find and reach out to the appropriate target audience with the correct media and units is a key factor of communication.
05 - Rough / Polished

People are very dynamic and complex beings. They form cultures, subcultures, counter cultures, have varying lifestyles, moods and interests. Therefore, a deep understanding of how to appeal a plethora of human tendencies-speaking with the right credibility and design language at the right time - is crucial.
06 - Entertain / Provoke

Both these men have adorned their bodies in paint orink, but one seems to be more
intimidating than the other. In some cultures, body tattoos may be considered
entertaining and face painting may suggest provocation. Playing upon values and
sensitivities is an important aspect how to make an impact.
07 - Contemporary / Classic

Whilst innovation is exciting, thrilling and refreshing, the timelessness of a classic will never let you down. While trends and fashions are fleeting, classics seem to transcend time and place. Today's high tech digital and print expressions give even more importance to concepts and content - and that is what creates our future icons.
08 - Minimal / Lavish

Beauty truly is in the eye of the beholder. While lavish, ornate creations may appeal to some, elegant simplicity may appeal to others. Just as a plain glass of water will quench your thirst, there is nothing quite like a lavish cocktail to savour and celebrate a special occasion. It's all about what is appropriate - style consciousness and appearance to suit the occasion.
09 - Discipline / Passion

Raw, intense passion has driven so many of the finest creations of our time. But where there is passion, an immense amount of dedication and discipline is never far behind. It is the balance of these two ingredients that creates our finest work. Given the same design brief, two designers will inevitably create different designs. It is up to our esteemed client to make this choice …
Thank You. Interested in acopy? Let us know and we can send it